More than $7 million has been reinvested in downtown Greenville since our designation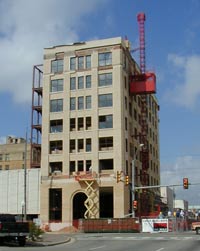 as a Texas Main Street City by the Texas Historical Commission in 1999. The National Trust for Historic Preservation named Greenville a 2002 National Main Street City, one of only 100 cities chosen nationwide.
The National Trust's Main Street Project combines historic preservation and economic development for downtown revitalization.
More than 1400 communities in 42 states have participated in the Main Street Project.
The Main Street Concept:
Rehabilitation of existing structures capitalizing on the unique character of the buildings

Development of progressive marketing and management techniques
Preservation and rehabilitation of historic commercial buildings enhances the image of the downtown area and serves as a unifying factor to encourage area merchants and building owners to reinvest in downtown.
The Main Street Board, in cooperation with local banks, has established a low interest loan pool for improvements to downtown buildings. Click here for more information.
Substantial improvements (exceeding $25,000) to downtown buildings may qualify for up to a 7 year tax abatement on the cost of improvements. Click here for a pdf file (viewable in Acrobat Reader) of the City Ordinance.